What is Benzociane cas 94-09-7?
Bezocaine (CAS 94-09-7), also called Ethyl 4-aminobenzoate  is a kind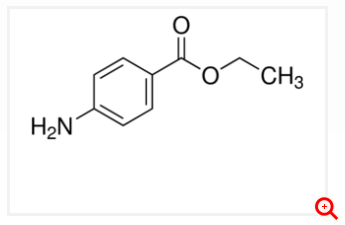 of fat-soluble surface anesthetic. Benzocaine is a local anesthetic commonly used as a topical pain reliever or in cough drops. It is the active ingredient in many over-the-counter anesthetic ointments such as products for oral ulcers. It is also combined with antipyrine to form A/B otic drops to relieve ear pain and remove earwax.
Benzocaine is sparingly soluble in water; it is more soluble in dilute acids and very soluble in ethanol, chloroform and ethyl ether. The melting point of benzocaine is 88–90 °C, and the boiling point is about 310 °C. The density of benzocaine is 1.17 g/cm3.
Bezocaine industrial grade 20~40 mesh
Appearance  White crystals
Water                      0.5 %max
Residue on ignition   0.1% max
Heavy metals           0.001%max
Assay    98.0~101.0 %
Bezocaine Pharma grade (50 mesh and 200 mesh)
Appearance             White crystalline powder
Identification           Infrared Absorption<197K>
Water                      0.5 %max
Residue on ignition   0.1% max
Heavy metals           0.001%max
Assay                      99.0~102.0%
Benzocaine CAS 94-09-7 Description
| | |
| --- | --- |
| Product Name | Benzocaine |
| Synonyms | 4-Aminobenzoic Acid Ethyl Ester |
| CAS NO | 94-09-7 |
| Molecular Formula | C9H11NO2 |
| Molecular Weight | 165.19 |
| Melting point | 88-90 °C |
| Boiling Point | 172 °C (12.7517 mmHg) |
| Flash Point | 172°C/13mm |
| Density | 1.17g/cm3 |
| Assay | 0.99 |
| Grade | Pharmaceutical Grade |
| Solubility | Soluble in ethanol, chloroform, ethyl ether and dilute acids. Sparingly soluble in water |
| Appearance | White Crystalline Powder |
| Storage | Stored in cool and airy place; away from fire and heat; handle with care;no breakage, avoid leakage. |
| Packaging and Shipping | Aluminum foil bag, cartons, plastic contain,drums or as required; By Express, by Air, by Sea according to the Amount. |
| Usage | ¹.Bezocaine is a kind of fat-soluble surface anesthetic.².Used as a local anesthetic for skin and mucous membrane.³.Also be used to cover the sunlight as a protection agent. |
Benzocaine CAS 94-09-7 Picture
AmarvelBio Active Pharmaceutical Ingredients (API)
| | |
| --- | --- |
| Product Name | CAS NO |
| Procaine Hydrochloride | 51-05-8 |
| Procaine | 59-46-1 |
| Benzocaine | 94-09-7 |
| Benzocaine hydrochloride | 23239-88-5 |
| Lidocaine | 137-58-6 |
| Tetracaine | 94-24-6 |
| Tetracaine hydrochloride | 136-47-0 |
| Lidocaine hydrochloride | 73-78-9 |
| Larocaine/Dimethocaine | 94-15-5 |
| Larocaine/Dimethocaine Hydrochloride | 553-63-9 |
| Pregabalin | 148553-50-8 |
| Phenacetin | 62-44-2 |
| Boric acid | 11113-50-1 |
| Levamisole Hydrochloride | 16595-80-5 |
| Tetramisole hydrochloride | 5086-74-8 |
| 4-Acetamidophenol | 103-90-2 |
| Tadalafil | 171596-29-5 |
| Sildenafil | 139755-83-2 |
| Melanotan II (MT2) | 121062-08-6 |
| 1-Phenyl-2-nitropropene (P2NP) | 705-60-2 |
For more information, pls contact me
Jenny
Whatsapp/Telegram/Wechat: +8618627095160
Wickr:  Amarvelbio
Email:  jenny@amarvelbio.com